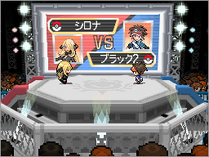 The Pokémon World Tournament is a battle facility introduced in Pokémon Black 2 and White 2. It is organized by the Sinnoh League Champion Cynthia.
Description
Edit
It appears that the trainers that you fight here, are trainers you've met on journies to the other reigons. The list of the triners you fight are:
Kanto
Brock, Lt. Surge, Misty, Erika, Janine, Blaine, Giovanni, Lance, Blue (or Green)
Hoenn
Steven
Sinnoh
Volkner, Cynthia
Unova
Akuroma (info not yet relaesed in this trainer)
Ad blocker interference detected!
Wikia is a free-to-use site that makes money from advertising. We have a modified experience for viewers using ad blockers

Wikia is not accessible if you've made further modifications. Remove the custom ad blocker rule(s) and the page will load as expected.